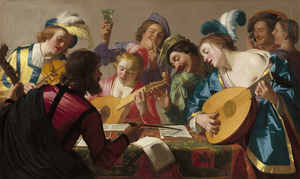 The Dupont Music Circle was an informal gathering of people in the Washington, D.C. area who were interested in singing and playing the traditional music of the British Isles — English, Irish, and Scottish — with a dash of Renaissance, Medieval, and Appalachian thrown in for good measure.
The group started in the Dupont Circle area of Washington, D.C. in 1983, and since then, it's been hosted in numerous locations around Washington and its suburbs until it disbanded in 2007.
Over the years, music circle participants collected a large number of both popular and obscure folk songs. Some of those songs are preserved here as ABC music files.
Please feel free to download, use, revise, and distribute the music you find here.
To find, view, or download files, click one of the following links:
While viewing a song file on this site, you can transpose it to another key, download it as an ABC file, or print it to paper or a PDF file. Users experienced with ABC notation can do all the above, plus edit the ABC file and save their changes.
If you are not familiar with ABC music notation, check out the following link for more information:
---
Dupont Music Circle Logo